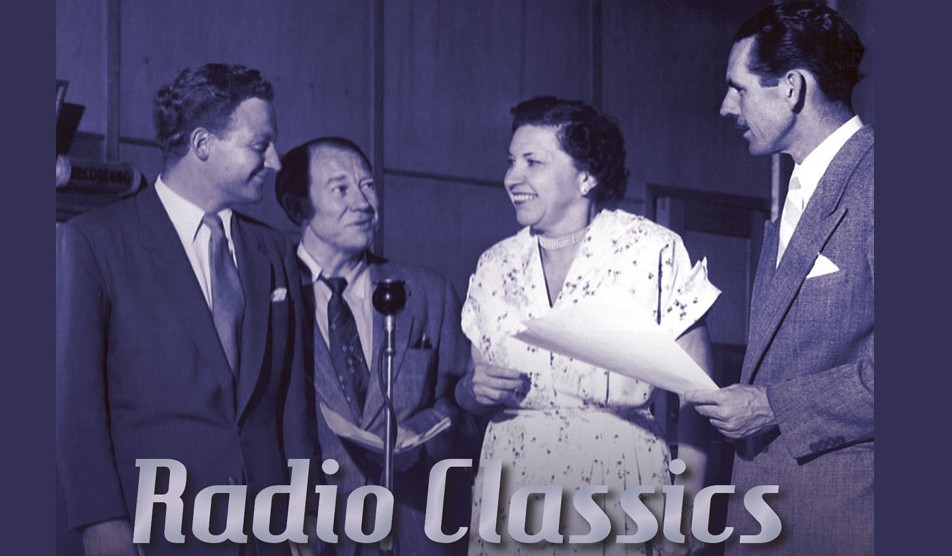 Grace Gibson Productions runs TWO quite separate websites: this one (GraceGibson.com.au) is specifically aimed at the Radio Industry, and is focussed upon supplying Broadcast Professionals with information and demos of radio programs, features and specials for which they can obtain licences to broadcast these shows. Just as you cannot purchase a DVD and take it into a cinema to put on the 'big screen', radio stations (be they Commercial, Community or Internet) must obtain broadcasting leases from us to put any of our features to air.
If you are looking for radio serials to enjoy purely as 'home entertainment', then you're currently on the wrong site: click here to go to our Retail website http://www.gracegibsonradio.com
OK, now we've got THAT cleared up, here's a bit about our company – very proudly Australian Radio's longest running program supplier going back over 70 years…
Grace Gibson Productions produces and syndicates programs to radio stations in Australia, New Zealand, the Pacific rim, the Caribbean and other overseas locations.
Grace Gibson (a Texan by birth) opened her own production company in 1944, having been brought to Australia in 1934 by the General Manager of the then fledgling 2GB/Macquarie Radio Network. Her task was to set up ARTRANSA (American Radio Transcription Agencies) and then sell and "Australian-ise" these American 'radio soapies' for them. Initially she was only coming here 'on loan' for 6 months but ended up staying a lifetime.
Grace Gibson's great strength was in creating 'daytime soapies', such as "Doctor Paul", "Portia Faces Life" and "Life Can Be Beautiful" but she also created other drama classics like "Dossier On Dumetrius", "Cattleman" and "I Christopher Macaulay". Grace sold the business in 1978, yet Gibson's was yet to produce their most popular radio serial of all-time "The Castlereagh Line" which ran for some 910 episodes and is still heard on many commercial and community radio stations to this day.
Comedy has always been a Gibson speciality too, with classics like "Chickenman", "Chuck Chunder" and "Captain Kremmen", and today – along with these 'comedy classics' – we are proud to be the distributor of Australian radio's longest running (and most awarded) comedy/satire "How Green Was My Cactus".
We also represent the best long-form music shows from overseas syndicators, including Casey Kasem's American Top 40 – 'The 70s' AND 'The 80s', The Classics, Dick Clark's Rock Roll & Remember, American Country Countdown with Kix Brooks, Retro Country, Retro Pop Reunion, Rockmixx, Acoustic Storm, Legends of Jazz, Hollywood Hamilton's Weekend Top 30 , The House of Blues and Country Giants plus – in New Zealand and South Pacific Island markets only – Rick Dees Weekly Top 40 and Ryan Seacrest's American Top 40.
To many people in the radio industry, the name Reg James is synonymous with that of Grace Gibson. Reg started with Gibson's in 1946 as an office-boy and ended up being the best known person in the company, remaining with us for his entire career and progressing through to Sales Manager and eventually General Manager of the company. He remained our Archives expert right throughout his 'retirement' until his passing in August 2015. He is be sorely missed by us and all who knew him.
Grace Gibson Productions today is owned by Bruce Ferrier, who has been in radio since 1972, and in the program syndication business since 1979 (when he headed up Macquarie Special Events, which he re-focussed from being a sports report service into a program feature producer and syndicator). In 1982 he established Independent Radio Services and produced (mainly in association with Doug Edwards and Triffique Productions) a string of comedy hits including "The Boys From Benalla", "For The Term Of Her Natural Life", the ground-breaking "Samuel Pepys Show" and was part of the birth of "How Green Was My Cactus" which Grace Gibson Productions once again distributes for Triffique. Bruce acquired Grace Gibson Productions in 1991.
In 2012, Grace Gibson Productions was honoured to be inducted into the NFSA's (National Film & Sound Archives) prestigious SOUNDS OF AUSTRALIA registry in recognition of the volume of work produced by the company over the years: the first corporation to be so honoured by the NFSA.
A few years ago we opened the Grace Gibson Radio Retail Store, which allows individuals to purchase their own, personal copies of an ever-expanding range of our radio serials, dramas and comedies. These are strictly for 'home entertainment' and very strictly NOT for broadcast or use on the internet, etc. without obtaining a broadcasting lease from us. Our online retail store operates through its own dedicated website, which you can access here http://www.gracegibsonradio.com